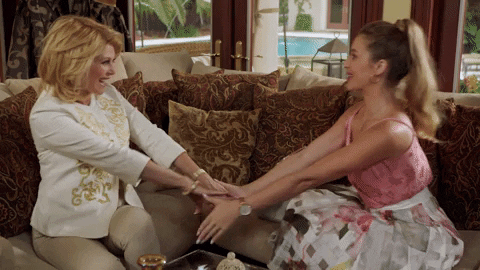 Dimanche 26 mai c'est la fête de nos mamans chéries ! C'est la journée idéale pour profiter d'un moment privilégié avec elle, surtout en cette période printanière qu'on a tant attendu… 
Voici une petite liste d'activités à faire avec nos mamans pour leur plus grand plaisir (et le vôtre !). 
Que faire avec sa maman ?
1. Une manucure ! C'est le meilleur moment pour refaire le monde tout en se refaisant une beauté. Sur The Village Outlet, le bar à ongles by V vous attend avec impatience pour vous faire bénéficier de leurs prestations haut de gamme à prix doux !
2. Un brunch délicieux et healthy comme on les aime…  Surtout, si vous passez par The Village Outlet, de nombreux restaurants réputés sont présents pour vous concocter leurs meilleurs plats. Au Rendez-Vous pour retrouver les valeurs culinaires de Paul Bocuse, chez Angelina connu pour ses délices sucrés et salés, ou bien quoi de mieux que de déguster une bonne glace Amorino ? 
3. Un Spa entre filles ! La fête des mères est la meilleure opportunité pour aller se détendre pleinement sans penser à rien à part prendre soin de soi.
4. Ou bien un massage relaxant ou tonifiant. Peu importe, vous en sortirez 100% détendus !
5. Un shooting photo en famille en mettant à l'honneur la star de la journée : votre maman. Vous pouvez profiter des talents exceptionnels de notre photographe professionnel ainsi que du merveilleux cadre fleuris du centre. N'oubliez pas de réserver si vous venez ! 
6. Organisez-lui un week-end ! Pourquoi pas partir dans sa ville natale pour lui remémorer son enfance accompagnée de ses enfants ?
7. Vos mamans vous préparent souvent notre plat ou dessert préférés pour vos anniversaires ? C'est leur journée, à vous de lui rendre ce petit plaisir qui est une belle preuve d'amour ! N'oubliez pas que, même si vous n'êtes pas un cordon bleu, c'est l'intention qui compte…
8. Si il ne fait pas beau, proposez-lui une séance au cinéma ! Un moment détendu devant un bon film en grignotant des sucreries miam… 
9. Pourquoi pas faire une journée shopping tout simplement ? Notre personnal shopper en chef vous attend pour vous conseiller sur une tenue en fonction de votre morphologie & sur les dernières tendances ! Pour réserver c'est par ici ! 
10. Chouchoutez là ! Vous la connaissez mieux que personne pour savoir ce qui lui fera réellement plaisir.
Nous serons heureux de vous accueillir sur The Village Outlet pour profiter d'une belle journée pour shopper vos coups de coeurs & profiter de nos surprises ! 
Que lui offrir ?
Vous ne savez pas quoi lui offrir ? Voici une petite sélection de ce que vous pouvez trouver sur l'e-shop de The Village Outlet pour marquer le coup le jour J. À Partir de 150€ d'achat, un cadeau vous sera glissé dans votre colis pour toutes commandes passées sur le e-shop du 17 mai au 23 mai !